South Afrika's adventurous East
1x 60 minutes / NDR 2022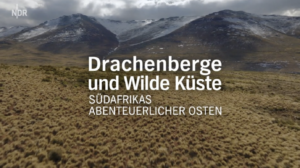 Anyone who wants to visit the east of South Africa as a tourist usually thinks of tourist highlights such as the Garden Route or the Kruger National Park. But right in between, off the beaten path, a completely different, untouched and authentic picture of the country emerges: green hills, rugged coastlines, dense coastal forests and majestic mountain ranges. The film team discovers a part of South Africa that has so far been spared from mass tourism and has retained its originality.